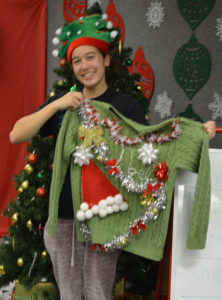 Is it cute? Is it ugly? Judges puzzle over this year's Teen's ugly sweater contest!
Nina Jorgenson was declared the winner of the San Benito County Free Library's first-ever Ugly Holiday Sweater Design Competition on Friday, December 16, 2016! Using tinsel garlands, ribbons, pom poms, and other assorted holiday decorations provided by the library, contestants munched on pizza while creating the ugliest holiday sweater possible. Nina won a gift card and a nifty holiday hat for her creation above.
Star Saunders from San Benito High School (below, left), Louise Roy of the Hollister Art League (below, second from left), and the library's own Julie Soto (below, second from right) served as judges during the event.