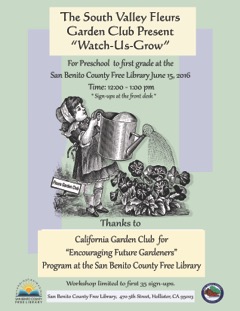 The South Valley Fleurs Garden Club presented the Watch Us Grow Workshop for children ages Pre-K to 2nd grade. Participants learned the fundamentals of starting plants before planting them and the different stages for a plant's life.
Sally Biersdorff presented with Linda Wightman and Rosemary Bridwell as helpers (pictured below). They received 50 growing kits from the California Garden Club as part of their Encouraging Future Gardeners program.
"I was helping the older kids and they were excited," says Rosemary, "I had a lot of fun watching them work with their seed packets." Both kids and adults had a great time.