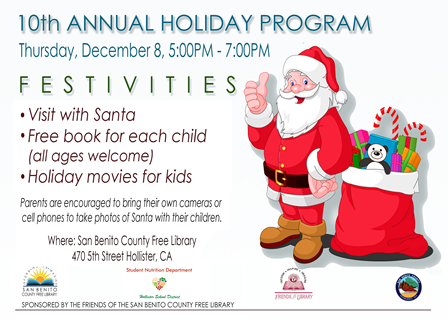 The San Benito County Free Library (SBCFL) will host its 10th Annual Holiday Program on Thursday, December 8th; from 5:00 to 7:00 pm. Activities at this year's celebration include a special guest appearance by Santa Claus, movies and a free book for every child. Parents are encouraged to bring their own cameras, if they wish to take photos of Santa with their children.
Through the generous donations from the Friends of the San Benito County Free Library and the Student Nutrition Department for the Hollister School District, the Library is able to provide this fun event to San Benito County families and encourage a love of reading in the home by providing every child in attendance with a free book and a nutritious snack.
About the Author
Julia Soto is the Youth Service Librarian with the San Benito County Free Library. She's a recent graduate with her Master's in Library and Information Technology from San Jose State University.