For Pre-K through 3rd Grade:
BILINGUAL MOBILE LITERACY SOLUTION FOR THE ENTIRE CITY
Footsteps2Brilliance® is the breakthrough early learning solution that helps all children become proficient readers by 3rd grade. Our device agnostic Mobile Technology Platform allows school districts to leverage the mobile devices that parents already own to scale early literacy citywide.
Digitally links school and home from any mobile device.
Game-based methodology personalizes instruction
Innovative brain mapping tracks vocabulary acquisition
Research-base, cost-effective model
The comprehensive Footsteps2Brilliance curriculum contains over 1,000 interactive books, songs, and games that can be read in either English or Spanish. Footsteps2Brilliance have won numerous awards for using game-based methodology to engage students and inspire a love of learning.
Parents who spend just 15 minutes a day using Footsteps2Brilliance with their children see immediate gains in vocabulary and critical thinking. Their easy to use bilingual curriculum helps all parents, including parents who speak English as a second language, prepare their children for academic success.
Over 80% of parents own a smartphone today. By using the parent's mobile technology to deliver engaging literacy apps, Footsteps2Brilliance gives busy parents anytime, any place, learning opportunities with their children, whether in a grocery store, doctor's office, kitchen, or car.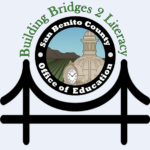 Resource provided by:
San Benito County Office of Education